Cambridge Acrobatics Intensive weekend with Forma Fortis
March 18, 2017 @ 12:00 pm

-

March 19, 2017 @ 4:30 pm
Event Navigation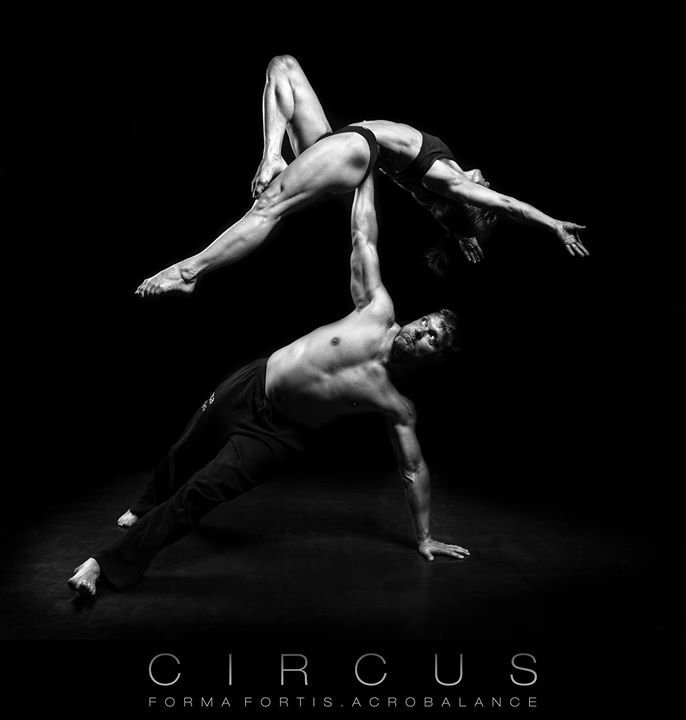 Aaaaand Forma Fortis are coming to Cambridge to teach a full weekend of workshops 😀
This fantastic pair have been teaching and performing for over 20 years. Alex and Marion (aka Forma Fortis) are both fantastically fun and technical teachers. You can expect to learn plenty of new tricks, refine old ones, laugh a lot, and exhaust yourselves.
An approximate timetable and lesson plan are outlined below, though it will be tailored over the weekend to best suit the group.
SKILL LEVEL
The weekend will be suitable for anyone with an active acro practice. It is not suitable for absolute beginners. As a multi-levels event, students will receive catered instruction to their skill level, whenever possible. If you aren't sure, message Jess 🙂
BOOKING FORM –
***THIS IS NOW SOLD OUT***
TIMETABLE
Saturday 12.00 – 19.00
12.00 – 12.30 warm up
12.30 – 13.30 WS I
13.30 – 13.45 short break
13.45 – 14.45 WS II
14.45 – 16.00 long break
16.00 – 16.15 quick warm up
16.15 – 17.15 WS III
17.15 – 17.30 short break
17.30 – 18.30 WS IV
18.30 – 19.00 guided cool down (massage, stretching…)
Sunday 11.30 – 16.30
11.30 – 12.00 warm up
12.00 – 13.00 WS V
13.00 – 13.15 short break
13.15 – 14.15 WS VI
14.15 – 14.30 short break
14.30 – 15.30 WS VII
15.30 – 16.30 jam time and cool down
LESSON PLAN
This is an approximate outline, but will be tailored to the needs of the group and individuals.
Tricks with base standing:
Simple partner tricks with two to three people (duo- and trio tricks) like standing on thighs facing each other and facing same direction; cross hanging with one or two bases with different ways of getting in and out.
Two-man-high:
Getting in and standing in two man high, technique training, variations of getting in two man high and different ways of getting down
Foot to hand (L-based):
Different ways to come in and out of foot to hand (i.e. standing in hands) when the base is lying. Normal and reverse grip, slow and with tempo, leading in to a flowing sequence.
Acro sequences (L-based):
Sequence (so called "ball-sequence") includes shoulder stand on hands, hanging upside down on base's feet, shoulder stand on feet and standing in hands. We offer variations with built in one leg counterbalance or direct entrance from starting position into triangle/teardrop.
Hand to hand (L-based):
Several ways to come into hand-to-hand with the base lying on the floor. Normal grip and reverse grip position. Never done a hand-in-hand-handstand? You will do so in this workshop!
Hand to hand (standing base)
Several ways to come into the short arm hand-to-hand-handstand, normal and reverse grip. (e.g. entrance via forearm, potechka)
Foot to hand (standing base)
Different ways to come into foot to hand (standing in hands) when the base is standing. Passing from 2nd base, pitching into position, flipping the flyer over the back into position.
One arm flyer/star on standing base
Several ways into one arm flyer (e.g. direct from the floor, via two arm flyer) and different ways down (e.g. tempo to wedding seat, forearm handstand and somersault to wedding seat, cartwheel down).
You will not be bored, and you will be tired 😉
MORE ON THE TEACHERS
For more then 20 years Marion and Alexander Lenz aka "Forma Fortis" have been performing and teaching acrobatics. Marion began her acrobatics career as a gymnast and Alexander as an olympic weightlifter. In 1992 they started doing acrobatics together in Munich. They founded the acrobatic group "Forma Fortis" and started performing internationally – mostly as duo, but also many times as trio or in collaboration with jugglers, dancers, singers, aerial artists…
One of their specialities is adagio acrobatic. (http://www.youtube.com/watch?v=kbGFz9vhS4w; (Adagio Trio) (http://www.youtube.com/watch?v=L6f9wRgQIu0 (Adagio Duo)
For three years now Marion and Alex's sons – Leon and Kilian – have been joining in the teaching, and perform with their parents together as Family Forma Fortis.
(https://www.youtube.com/watch?v=FEoSw5TH5vs ("Pirates of the Hebredean")
In parallel to their performing activities they started teaching in the 90ies at the Dutch acrobatics festival and later they built up and taught for 13 years an acrobatic group of 50 students at the University of Regensburg. They organised 12 international acrobatics festivals, typically with more than 1000 visitors for the festival show. In September 2012 they moved with their three children to Durham, UK. They teach regular adult acrobalance classes at Circus Central (CC) in Newcastle and all around the country. They are also mentors for the BTEC Level 3 Diploma in Circus Arts at CC.
Forma Fortis teach partner acrobatics to all levels, starting from standing in hands, handstand skills, hand-to-hand, and counter balance tricks in different variations. To achieve successful teaching they use their lifelong experience in getting technique perfect and teach the physical basics by strengthening, stretching and conditioning. But first of all they live and show the fun of this fascinating circus art.