Cambridge Acro Festival 2018
August 17, 2018 @ 11:00 am

-

August 19, 2018 @ 7:00 pm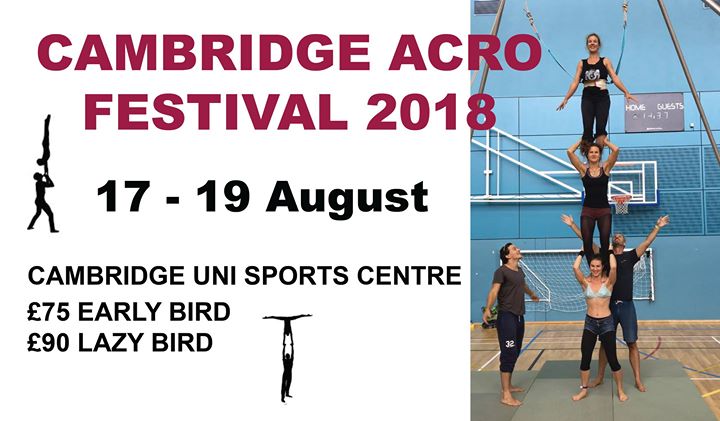 Cambridge Acro Festival is back!
3 full days of workshops, catering for all levels of standing and L based acro. The space is MASSIVE, meaning we can have loads of workshops as well as plenty of jam space 🙂
BOOKING LINK – https://goo.gl/forms/zm0WwEtRxXKxPRWi1
TEACHERS
Confirmed so far, we have the fantastic
– Acro Bart (aka Bart Venne): standing acrobatics, icarian, banquine, h2h – the whole lot really!
– Tom Mörtl and Ayla Moes: standing acrobatics, especially hand to hand & dynamic tricks
– Forma fortis, aka Alexander Lenz and Ma Marion: standing acrobatics
– Erica Montes and Kiran: acro yoga washing machines, pops and whips
– Verena Pietzner and Dion Skovgaard Jensen: standing acrobatics
– Guillaume Loconte and Mélodie Buffard: standing acrobatics, icarian and funny tricks
– Aleš Hren and Tanja Urankar: L basing and washing machines
– Janni Scott-Walton: handstands and morning yoga
– Kit Eckersley: flips and tumbling
– Helena Astridge: handstands
We'll announce more teachers here as we confirm them 🙂
TIMETABLE (approximate):
Friday: 11am – 10pm
Saturday: 9am – 10pm
Sunday: 9am – 7pm
For those who think 3 days is a bit too short, we will also have a 'pre-con' with a workshop on the Wednesday evening with Tom and Ayla, and an open jam in the park on Thursday 🙂
MONIES:
For the 3 day festival, 17-19 August:
Early bird (until 30th June): £75
Lazy bird: £90
For the 3 day festival + pre-con:
Early bird (until 30th June): £100
Lazy bird: £120
YOUR LEVEL:
At all times throughout every day, there will be at least 1 workshop running which will be completely beginner friendly (i.e. if you don't even know what acro is, there will still be teaching suitable for you).
Similarly, if you're very experienced we absolutely expect that you will not be bored or underchallenged. Some of the teachers are extremely high level, and very good at upping the difficulty if it looks like you're cruising 😉
ACCOMMODATION:
Hosting with local acrobats! Following previous success of finding friendly Cambridge acrobats for visitors to stay with, we'll be organising local acro hosts for visitors to stay with. Alternatively there are plenty of hotels / airbnbs in the area (these book up quickly in the summer though so be organised!)
FOOD:
Tea and coffee are provided in large quantities throughout the festival. We will also provide some light snacks. For meals, you can either:
– order takeaways to the sports hall (we would recommend using Deliveroo)
– go out for food in the beautiful historic city of Cambridge
– cook with your host (check with them first..!)
A Sainsbury's has recently opened a 5 minute walk from the venue as well, so lunch options have gotten a lot better!
MASSAGE and PHYSIO:
We have previously been lucky enough to have gotten trainee masseuses to come and practice on us. For free! Watch this space for updates!
We'll also be booking in a top physio to be there throughout the festival. Appointments (paid) will be available for booking in advance.
TRANSPORT:
By air: Stansted airport is by far the most convenient. From there, you can either hire a car and drive to the sports hall (30 min drive; parking is easy) or you can take the train (see below)
By train: Cambridge Station is the most convenient. Cambridge North Station is much less convenient. From Cambridge Station here you can take Busway Route U directly from the station to the sports hall.
By car: there is loads of parking just outside the venue.
THE VENUE:
The festival is held in the main sports hall of the Cambridge University Sports Centre. The full address is:
University of Cambridge Sports Centre
Philippa Fawcett Drive
Cambridge CB3 0AS