Barcelona Acrobatic Convention 2019. 4th
September 3, 2019 @ 12:00 am

-

September 8, 2019 @ 12:00 am
Event Navigation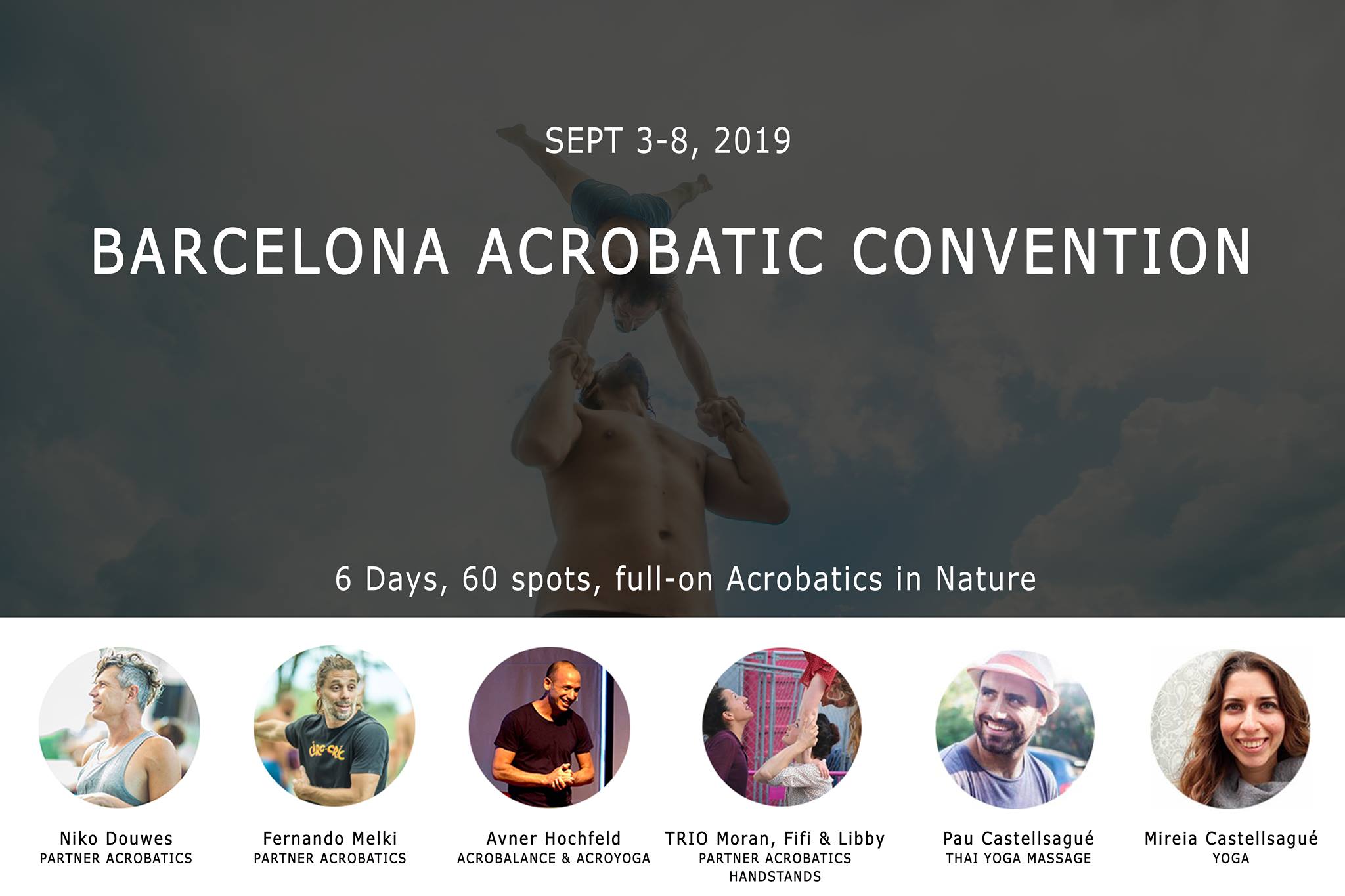 3-8 September 2019
6 Days, 60 spots, full on Acrobatics in Nature
We are happy to announce the 4th acrobatic gathering in Barcelona. The BAC will bring together a group of 60 international acrobatic practitioners and 7 high level international & local teachers.
The main content of the workshops will be: partner acrobatics, L base and standing, icarian, hand to hands and lots of games & fun!
NIKO DOUWES | Partner Acrobatics
FERNANDO MELKI | Partner Acrobatics
AVNER HOCHFELD | Partner Acrobatics
…and more to come!!!
PAU CASTELLSAGUE | Thai Massage
MIREIA CASTELLSAGUE | Yoga
Save your spot: http://tiny.cc/gwcz1y
Venue:
Omshanti Yoga Studio, a family-based, a homely and humble retreat center on the top of a hill, the horizon goes from mountain Montserrat to the Natural Parc of Montseny. Located in Granollers, 30min from Barcelona city.
Installations:
> Retreat Center in the countryside 30 minutes from Barcelona
> Outdoor Workshop space with 200 square meters of grass
> Indoor Workshop space with a 144 2m. hall with wooden floor
> Swimming Pool
> Steam Bath
> Shared dorms with bunk beds
> Camping space
> Dry toilets
> Inside and outside bathrooms and showers
Some of the main courses you shall find on your daily plate
> 5h Acrobatics > 45min Handstands > 2h Morning Yoga > 2h Thai Massage > Steam Bath Nights > Swimming Pool > Beach Day > Party Night <
Accommodation:
There are bunk beds in shared dorms and Camping spots available. You can also bring your van to sleep and get the camping price. For dorms we provide bed sheets, pillow with pillowcase and blankets. For campers, we can offer up to 10 mattresses with matching bedsheets for the first ones to reserve them. We do not provide tents, pillows nor blankets for campers.
Food:
There will be three meals a day with fruit and nuts available all day for you to snack. The meals will be vegetarian (with cheese and eggs) and we can offer alternatives for allergy diets or vegans. Omshanti is a vegetarian, smoke and alcohol-free center. You are welcome to get extra food or beverages outside the center.
Pre Req's:
At least 1 year experience in acrobatics to attend. Why? We are setting this limit in order for the participants to have fun, and to exchange in a safe and light environment. The workshops will not teach introduction to acrobatics. There will be three diferent levels: begginer/intermediate/advanced.
Helping Out Tasks:
This is a community-based venue where we ask for each one of you to collaborate in a task outside of workshop hours. Every day you will have a 30 minutes chore assigned (chopping veggies, washing pots, taking the trash out, etc)
Children:
Children are always welcome. It is a very safe environment where many children find exciting and with many possibilities to play and there are no nearby roads. We don't have planned activities for children.
Contact:
alegria@omshanti.cat
+ info
www.bcnacroconvention.cat
alegria@omshanti.cat