AcroYoga Level 1 Teacher Training Mexico 2017
October 12, 2017 @ 8:00 am

-

5:00 pm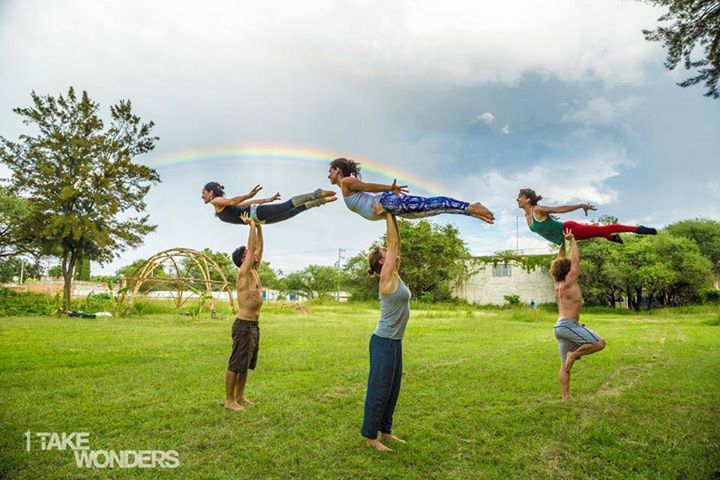 AcroYoga Level 1 Bilingual Teacher Training in Mexico
October 12-29, 2017
with Mimi Nuñez, Oliver Chamorro, Laura E. Velázquez, Jason Nemer, Sonia Peltzer, Rodrigo Alvarellos, Sandra Erosa and Juampi Travaglini
For humans who want to:
+ Be moved and transformed
+ Discover the art of Teaching
+ Deepen Acrobatics, Therapeutics, Yoga, inversions & spotting skills
+ Join the oldest community of AcroYoga certified Teachers
+ Learn new skills in a safe and caring environment
Become a certified AcroYoga Teacher and join our community of over 1,000 in 55+ countries, supporting over a million participants across the globe through movement, connection, and play!
We pride ourselves in the quality of our curriculum, the seamless integration of high-level acrobatics with flying therapeutics and thai massage, the progressive development of skills to create a strong foundation, and the transformative power of our co-teaching philosophy. Our team of deeply experienced Teachers builds on decades of teaching experience to support the refinement of your practice and your teaching.
Lead Teachers Mimi Nunez, Laura E. Velázquez & Oliver Chamorro will be leading this bilingual (Spanish and English) AYI Teacher Training together with an incredible team of facilitators. We can't wait to have you with us.
Full Training & Certification, price $2,495.
Act now! Price will increase to $2,895 on October 1st.
Price depends on the accomodation option.
This once-in-a-lifetime experience includes:
* AcroYoga Teacher Training instruction for 10+ hours each day
* AcroYoga Teacher Training manual
* AcroYoga Teacher additional benefits complimentary for a year*
* Certificate of Completion*
This is a residential training and includes food and accommodation. Once you are accepted, we will support you through a private Facebook group so you can meet your future flight partners and teaching colleagues.
*Certified Teacher benefits and Certificate for students who complete the full Training and certification.
Can't make the whole training?
AcroYoga International encourages work-life balance. If you can't get away from home for the whole Training and certification, you're in luck. We've set this training up in a modular form to give you more flexibility. You can take the first module October 12-18, and complete the second module in the future at any other one of our global modular trainings. You will build community across the globe, while balancing your life at home.
Module 1 only, Early Bird price: $1,395
Act now! Price will increase to $1,695 on October 1st.
Price depends on the accomodation option.
As of October 1st, rush pricing will apply. We strongly encourage you to apply before then so we can register you in enough time to take advantage of this pricing.
Registration:
http://www.acroyoga.org/events/mexico2017
MOVE – CONNECT – PLAY
~~~~~~~~~~~~~~~~~~~~~~~~~~~~~~~~~~~~~~~~~~~~~
Profesorado bilingüe de AcroYoga en México
12-29 de octubre, 2017
con Mimi Núñez, Oliver Chamorro, Laura E. Velázquez, Jason Nemer, Sonia Peltzer. Rodrigo Alvarellos, Sandra Erosa and Juampi Travaglini
Únete al aprendizaje en comunidad para aprender cómo enseñar AcroYoga de una manera segura y divertida. El Profesorado busca apoyarte para que expandas tu potencial y alcances la expresión más completa de ti mismo. Obtendrás herramientas para comunicarte claramente, mientras creas relaciones honestas y compasivas de co-enseñanza. Experimentarás estas herramientas de enseñanza y al final tendrás un mejor entendimiento de quién eres como maestro y cómo puedes crear una comunidad donde quiera que vayas. Este profesorado tendrá lugar en el centro de retiro Chalananda en Jalisco, México.
Esta experiencia única incluye:
* Instrucción de AcroYoga por 10 horas diarias
* Manual de entrenamiento de AcroYoga
* Beneficios de apoyo para profes activos de AcroYoga (gratis por un año)*
* Certificado de Graduación*
* Camisa de profesor de AYI
* y mas!
Estaremos refinando nuestra comprensión individual de la práctica, y también pasaremos bastante tiempo en grupos practicando el arte de co-enseñar y también dar y recibir retroalimentación entre compañeros, maestros y facilitadores.
Este programa es residencial e incluye comidas.
Entrenamiento completo y certificación, precio a partir de
$ 2,495
Actua ahora! El precio aumenta a $2,895 el 1 de Oct
*El precio depende de la elección del alojamiento.
No puedes tomarte tanto tiempo?
En AcroYoga creemos en el balance entre el trabajo y nuestras vidas. Si no puedes tomarte tanto tiempo para el entrenamiento completo con certificación, tienes suerte! Los entrenamientos son modulares, para darte más flexibilidad. Puedes completar el primer módulo de 12-18 de octubre, y completar el segundo módulo en otro entrenamiento más adelante (o allí mismo del 20-29 de octubre). Te conectarás con diferentes partes de la comunidad global, mientras mantienes el balance con el resto de tu vida.
Precio hasta 1 de octubre 2017:
Modulo 1: US$1,395
A partir del 1 de octubre el precio será de $1,695
*El precio depende de la elección del alojamiento.
A partir del 1 de octubre, se aplicará la fijación de precios. Le recomendamos encarecidamente que se inscriba antes de esa fecha para que podamos registrarle en tiempo suficiente para aprovechar este precio.
Aplica aca:
http://www.acroyoga.org/events/mexico2017
MUÉVETE~CONECTA~JUEGA