AcroYoga Level 1 Teacher Training in London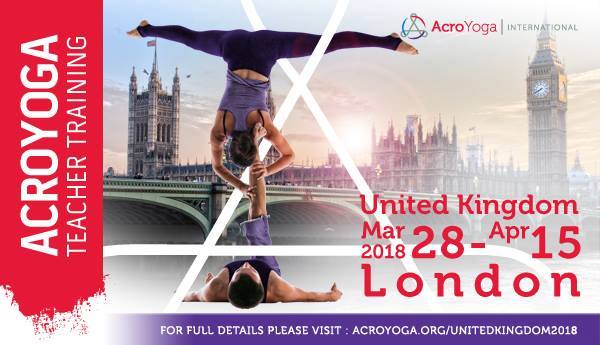 AcroYoga Level 1 Teacher Training in London
28th March to 15th April 2018
with Millette Núñez, Pascal Weis, Erica Montes, John Karvelis and more!
For humans who want to:
+ Be moved and transformed
+ Discover the art of Teaching
+ Deepen Acrobatics, Therapeutics, Yoga, inversions & spotting skills
+ Join the oldest community of AcroYoga certified Teachers
+ Learn new skills in a safe and caring environment
Become a certified AcroYoga Teacher and join our community of over 1,000 in 55+ countries, supporting over a million participants across the globe through movement, connection, and play!
We pride ourselves in the quality of our curriculum, the seamless integration of high-level acrobatics with flying therapeutics and thai massage, the progressive development of skills to create a strong foundation, and the transformative power of our co-teaching philosophy. Our team of deeply experienced teachers builds on decades of teaching experience to support the refinement of your practice and your teaching.
Lead Teachers Pascal Weis and Millette Núñez will be leading this AYI Teacher Training together with an incredible team of facilitators. We can't wait to have you with us.
Full Training & Certification: US$2,495
Act now! Price will increase to US$2,895 on 15th January
This once-in-a-lifetime experience includes:
* AcroYoga Teacher Training instruction for 10+ hours each day
* AcroYoga Teacher Training manual
* AcroYoga Teacher additional benefits complimentary for a year
* Certificate of Completion
This is a non-residential training and does not include food or accommodation. Once you are accepted, we will support you through a private Facebook group so you can meet your future flight partners and teaching colleagues.
Can't make the whole training?
AcroYoga International encourages work-life balance. If you can't get away from home for the whole Training and certification, you're in luck. We've set this training up in a modular form to give you more flexibility. You can take the first module March 28-April 3, and complete the second module in the future at any other one of our global modular trainings. You will build community across the globe, while balancing your life at home.
Module 1 only: US$1,395 (if paid before the 15th Jan 2018), US$1,495 thereafter.
Module 2 only: US$1695 (if paid before the 15th Jan 2018), US$1795 thereafter.
As of 1st March 2018, rush pricing will apply. We strongly encourage you to apply before then so we can register you in enough time to take advantage of this pricing.
More info and registrations:
Please email Pascal with any questions about the training:
pase.weis@googlemail.com
And follow the link to register:
http://www.acroyoga.org/events/london2018