Acroyoga & Handstand Workshop With Haein Cho(KR/BE) in Taipei
February 2 @ 7:00 pm

-

February 4 @ 5:30 pm
Event Navigation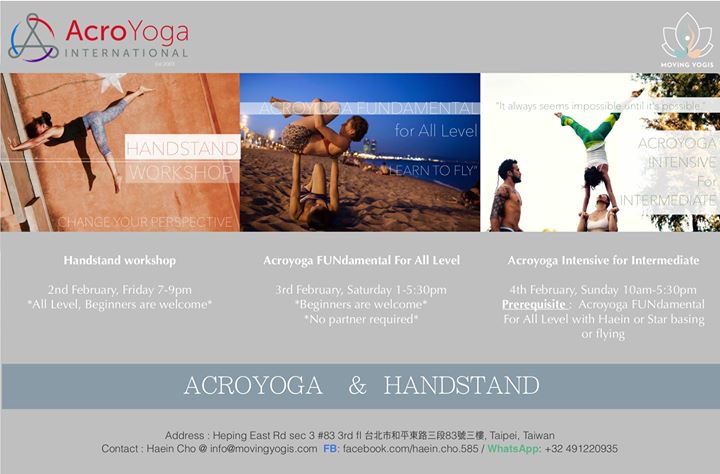 Acroyoga & Handstand Workshop with Haein Cho (KR/BE)
Haein Cho, Level 2 Acroyoga Immersion teacher, will be coming again to Taipei to share her skills and experiences with the Taiwan community!
Come and join us for challenges and inspirations!
***WORKSHOP SCHEDULE***
2nd Feb, Friday 7-9pm : Handstand workshop
3rd Feb, Saturday 1-5:30pm : Acroyoga FUNdamental Workshop for All Level
4th Feb, Sunday 10am-5:30pm : Acroyoga Intensive for Intermediates
***WORKSHOP DESCRIPTION***
— HANDSTAND WORKSHOP —
2nd Feb, Friday 7-9pm
Learning how to do a handstand is the process of discovering your own potential, gaining confidence and overcoming your internal barriers.
Regardless of whether this is your first encounter with standing on your hands or maybe you are already well oriented in this acrobatic play, you will certainly gain a valuable experience during this workshop. Get ready to get helpful tools and knowledge so that you get the skills and courage needed for practicing the art of balancing on your hands.
We will work on alignment, proper work of the shoulder girdle, discovering the basic principles of Acrobatic, so you can build confidence and increase your body awareness. You will learn exercises that will help you unite body and mind and create a solid foundation to stand on your hands. We will work both independently and in small groups, in an atmosphere full of support and mutual concern for safety, appropriate for all levels of practice.
(Limited to 12 participants)
(Beginners are welcome)
— ACROYOGA FUNDAMENTAL WORKSHOP FOR ALL LEVEL —
3rd Feb, Saturday 1-5:30pm
Join us and learn to fly!
This Fundamental Workshop is there to help you to launch your Acro yoga practice in the best of conditions as well as to strengthen your already existing Acroyoga practice. This course will cover the fundamental aspects of Acro Yoga and basic positions and transitions.
This workshop is open for those who never tried Acroyoga and beginners as well as for intermediate practitioners to refresh their basics.
So what is Acroyoga?
AcroYoga blends the wisdom of yoga, the dynamic power of acrobatics, and the loving kindness of healing arts. These three lineages form the foundation of a practice that cultivates trust, playfulness, and community.
* Skills taught in this workshop *
Inversions & Spotting
Fundamentals of partner Acrobatic
Partner yoga flow sequences
Basic to intermediate flying postures and transitions
Therapeutic flying
Thai yoga massage techniques
(No previous experience required & No partner required)
— ACROYOGA INTENSIVE FOR INTERMEDIATES —
4th Feb, Sunday 10am-5:30pm
This will be an opportunity to take your acro practice to the next level!
Join Haein for 1 day of innovative AcroYoga and partner acrobatics to transform your practice.
Be ready to be challenged to move, create, learn and sweat on the floor and in the air!
Please understand that this workshop is for experienced practitioners.
PRE-REQUISITE : Comfortable Star basing or Flying
*** FACILITATOR ***
Haein Cho : Originally from South Korea, Haein grew up in Auroville, spiritual community in South India. She's a certified Watsu & massage therapist and as well as Yoga & Level 2 Immersion Acro yoga instructor. Haein shares AcroYoga as a practice that is available for every body, age, and ability, aiming to support all beings through movement, connection, and play.
With a background in Aquatic body work, she brings in a unique softness in her Acro Yoga practice with fine balance between effortless movement and body control.
She has been teaching Acroyoga in form of retreat, workshop, class and in festivals and conventions in Mexico, Germany, Spain, Netherlands, Belgium, France, Greece, India, Korea, and Taiwan.
http://www.movingyogis.com / http://www.haeinyoga.be
http://www.facebook.com/haein.cho.585
*** VENUE ***
Peace Street Community Center
Heping East Rd sec 3 #83 3rd fl 台北市和平東路三段83號三樓
Taipei, Taiwan
http://www.facebook.com/pg/peacestreet/
*** INVESTMENT ***
*Register before the 15th of January and receive 10% discounts*
Friday Handstand Workshop : 1000NT (Max 12pp)
Saturday Acroyoga Fundamental Workshop : 1600NT
Sunday Acroyoga Intensive for Intermediate Workshop : 2500NT
Special price for all 3 workshops (Fri,Sat&Sun) : 4300NT
Special price for Weekend workshop (Sat&Sun) : 3600NT
*** REGISTRATION ***
info@movingyogis.com
Whattsapp : +32 496 108 059 (Haein)
Local Mobile : 0929920411 (Carolyn)