Acrobatics Intensive Weekend with Forma Fortis
February 17, 2017 @ 5:00 pm

-

February 19, 2017 @ 9:00 pm
Event Navigation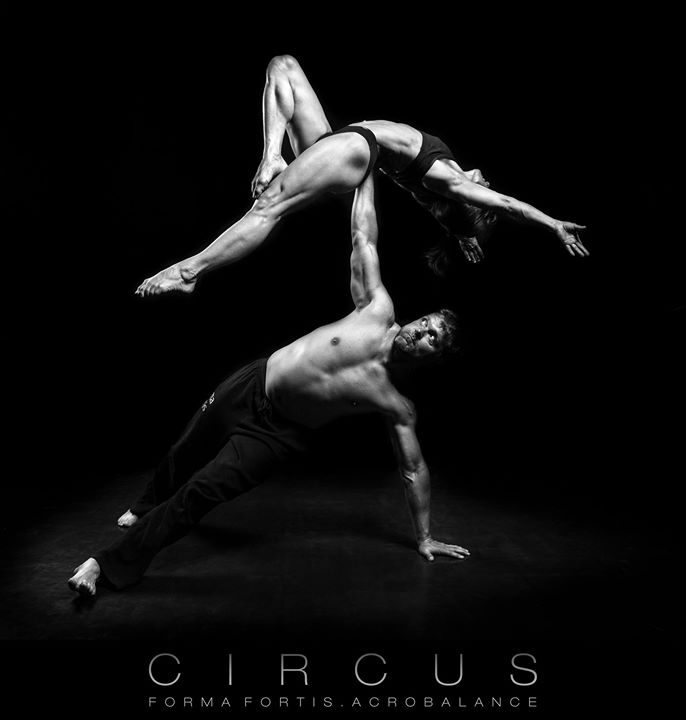 Join Alex and Marion from internationally renowned acrobalance performance group Forma Fortis in an intensive weekend of training.
ABOUT THE TEACHERS
For more then 20 years Marion and Alexander Lenz aka "forma fortis" perform and teach acrobatics. Marion began her acrobatic career as a gymnast and Alexander as an olympic weightlifter. In 1992 they started doing acrobatics together in Munich. They founded the acrobatic group "forma fortis" and performed internationally – mostly as duo, but also many times as trio or in collaboration with jugglers, dancers, singers, aerial artists… One of their specialities is adagio acrobatic. (http://www.youtube.com/watch?v=kbGFz9vhS4w; (Adagio Trio) (http://www.youtube.com/watch?v=L6f9wRgQIu0 (Adagio Duo)
For three years Marion and Alex´ sons Leon and Kilian are joining in the teaching and they perform together as Family Forma Fortis.
(https://www.youtube.com/watch?v=FEoSw5TH5vs ("Pirates of the Hebredean")
In parallel to their performing activities they started teaching in the 90ies at the Dutch acrobatics festival and later they built up and taught for 13 years an acrobatic group of 50 students at the University of Regensburg. In that respect they also organized 12 international acrobatic festivals, with typically more than 1000 visitors for the festival show. In September 2012 they moved with their three children to Durham, UK. They are teaching regular adult acrobanlance classes at Circus Central (CC) in Newcastle and all around the country and they are mentors for the BTEC Level 3 Diploma in Circus Arts at CC. "forma fortis" teaches partner acrobatics on all levels, starting from standing in hands, handstand skills, hand-to-hand- and counter balance- tricks in different variations. To achieve successful teaching they use their lifelong experience in getting technique perfect and teach the physical basics by strengthening, stretching and conditioning. But first of all they live and show the fun of this fascinating circus art.
SKILL LEVEL
Our workshops are suitable for anyone with an active acro practice It is not suitable for absolute beginners. As a multi-levels event, students will receive catered instruction to their skill level, whenever possible.
We will focus on getting towards working hand-to-hand with every step which helps to get there, like learning a handstand get the flexibility and the strength and learn how to base a flyer in hands.
We will teach acrobalance in all variations with the base lying on the floor as well as on a standing base, how to get in to a trick and how to get out in different variations.
We will offer duo as well as trio tricks and we wont forget about acro fun part 🙂
ACCOMODATION
If you don´t know where to stay in Newcastle during the weekend, there is a limited amount of private places offered by the Newcastle Circus Community. Just get in contactand we try to help you.
FULL WEEKEND: £100
Fri, 17 February 2017 5:00 pm – 9:00 pm
Sat, 18 February 2017 10 am – 7.30 pm
Sun, 19 Dec 2017 10.30 am – 5 pm
SCHEDULE
******* FRIDAY *************
17:30 – 18:00 Start – Warming up
18:00 – 19:00 Workshop 1
19:00 – 19:15 Short Break
19:15 – 20:15 Workshop 2
20:15 – 21:00 Free Floor – Weight training
21:00 Sit together in the circus
(you can order Pizza, bring some drink with you or buy at Sainsbury's across the road)
******* SATURDAY ***************
10:00 – 10:45 Warming up + Handstands
10:45 – 11:45 Workshop 1
11:45 – 12:00 Short Break
12:00 – 13:00 Workshop 2
13:00 – 14:30 Lunch Break
14:30 – 15:30 Workshop 3 —- Lifting and tempo techniques for bases, "AcroPilates" for flyers
15:30 – 15:45 Short Break
15:45 – 16:45 Workshop 4
16:45 – 17:15 Break
17:15 – 18:15 Workshop 5
18:15 – 18:30 Guided Partner Massage
18:30 – 19:30 Free Floor, Stretching,….
20:30 Traditionally we have dinner at "The Bake" http://www.thebake.co.uk
(Please let me know if you want to join in! I will make a reservation. Check their menu for veggie options. They do not serve alcoholic drinks, but you are welcome to bring your own wine, beer,… with you)
************ SUNDAY *****************
10:30 – 11:15 Warming up
11:15 – 12:15 Workshop 1
12:15 – 12:30 Short Break
12:30 – 13:30 Workshop 2
13:30 – 14:45 Lunch Break
14:45 – 15:45 Workshop 3 — Lifting and tempo techniques for bases and "AcroPilates" for flyers
15:45 – 16:00 Short Break
16:00 – 17:00 Workshop 4
17:00 Good-bye, tears,
****************************************