Acrobatic New Year 2018/19
December 27, 2018

-

January 2, 2019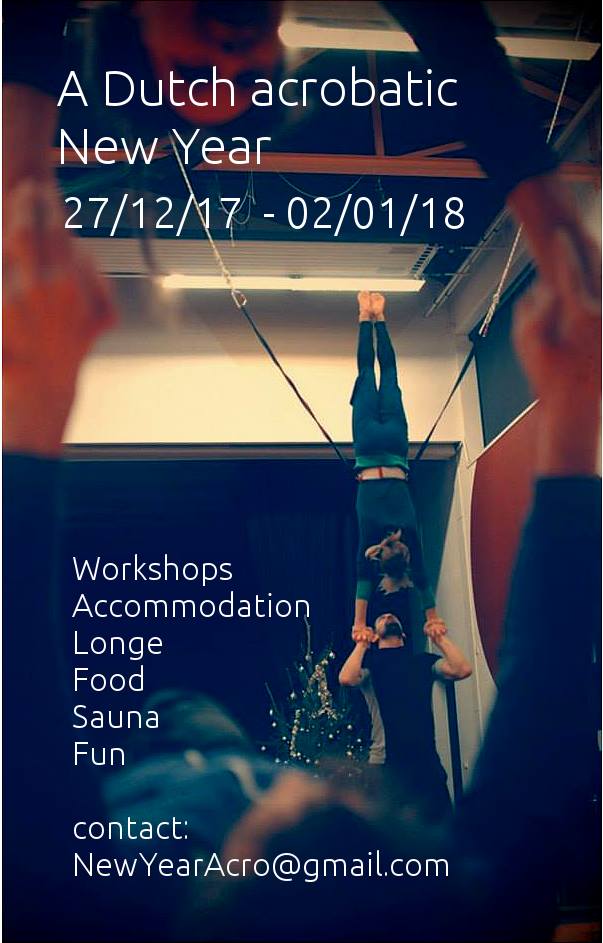 If you would like to join our mailing list to hear about future events, please send an email to: newyearacro@gmail.com.
Acrobatics Convention, 3 workshops a day with great teachers and two longes. Food, accommodation and a wood sauna are included.
***********schedule***********
Breakfast/Lunch from 8:30 till 17:00, Dinner 18:00/19:00.
morning: warm up, workshop 1
afternoon: workshop 2, workshop 3
evening: free training/sauna/bar/games
there will always be space for free training (day and night)
***********teachers************
Tiko Venne, Fons Bennink, Wybren da Silva, Trudi Albatros, Thomas Mörtl, Scott Jumps & Michaela Kurkiewicz, Paul Griffioen and Acro Bart
Others to be confirmed.
***********workshop description***********
The focus will be on partner acrobatics.
The level will depend on the level of the participants.
***********Registration***********
Registration form: https://goo.gl/forms/vbumusqemUX8NH6r2
You can only register by completing the form, not by emailing or messaging us.
€325 for the whole festival/5 days
€250 for 4 days
€195 for 3 days
€135 for 2 days
€70 for 1 day
Days are counted from 8am to 8am. The half days on 27 December and 2 January are free of charge if you pay for at least two other days, but you still need to register for them. Otherwise they are €25 each.
The price includes sleeping at the gym (communal room, on the floor), all workshops, plentiful vegetarian/vegan food and sauna.
If you would like to eat meat at dinner there is an extra charge of €5 per day (€30 for the week), on top of the early bird/normal price.
Once you have registered you will receive an email with the payment details. YOUR PLACE WILL ONLY BE SECURED ONCE YOU HAVE PAID AND RECEIVED CONFIRMATION FROM US.
***********Festival location***********
Sporthal de Vlinder
Hollandseweg 7
6706 KN
Wageningen
***********Travel***********
By air: The most convenient airport is Amsterdam Schiphol. It is also possible to fly to Eindhoven, Rotterdam or Dusseldorf Weeze (specifically Weeze and not the main Dusseldorf airport). If you arrive to Dusseldorf Weeze airport (in Germany) there are shuttle buses to Nijmegen: http://www.airport-weeze.com/en/arriving_by_bus.html#overzicht_13
from where you can take a train to Ede-Wageningen.
By train: The closest train station is Ede-Wageningen.
Journey planner for the Netherlands (bus and train): http://9292.nl/en
Contact Newyearacro@gmail.com for more info.