Aalborg Acro 2017
February 10, 2017 @ 5:00 pm

-

February 12, 2017 @ 3:00 pm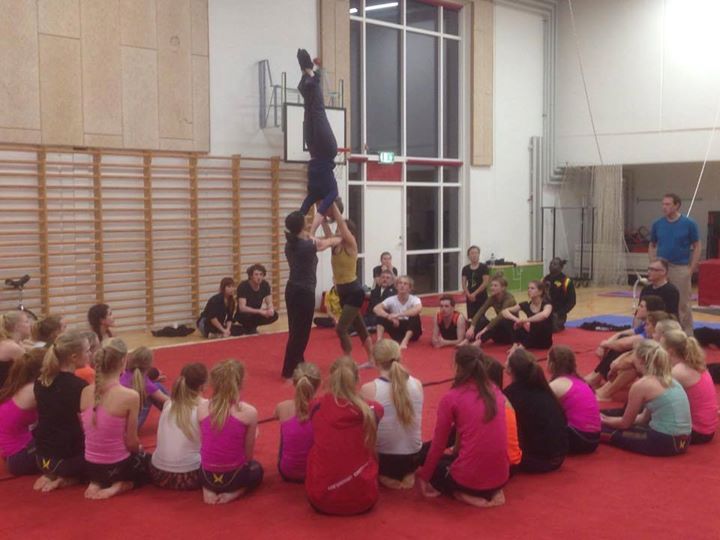 Aalborg Cirkus Klub invites you to an international acrobatics convetion Aalborg Acro 2017. The convention workshops will be supervised by internationally recognized teachers, including Bart & Tikko Venne, Tuk Fredreriksen and Caroline Klein.
Registration: Registration fee is 450 DKK (60 Euro) and the convention can accomodate 80 participants on the first come, first served basis. All participants must book their tickets by sending their full names and year of birth, special needs regarding food ect. to ack.convention@gmail.com where you will also receive the payment details. The fee is nonrefundable. If you do not receive a confirmation of your registration within 3 days, contact us again by email, it is possible that your email was lost.
The registration is open to all of age 13 and above. Participants below the age of 16 must be accompanied by an adult. The registration fee includes workshops, food and accomodation at the location (in your own sleeping bags and on your own isomats). All activities are at your own risk and Aalborg Cirkus Klub is not liable for any injuries, damage or lost valuables.
Contact: Registration and payment by email: ack.convention@gmail.com Other info: Dion Skovgaard Jensen, mobil: +45 51919252, email: dionskovgaard@gmail.com
Program:
Friday, February 10th
17:00 registration desk opens
19:00 – 20:00 dinner
20:00 – xx:00 free training
Saturday, February 11th
09:00 – 09:30 breakfast
09:30 – 10:00 warming up
10:00 – 11:30 first round of workshops
12:00 – 13:00 lunch
13:00 – 14:30 second round of workshops
15:00 – 16:30 third round of workshops
17:00 – 18:30 fourth round of workshops
19:00 – 20:00 dinner
21:00 – 22:00 open stage (if participants)
22:00 – xx:00 cosy time and free traning
Sunday, February 12th
09:00 – 09:30 breakfast
09:30 – 10:00 warming up
10:00 – 11:30 first round of workshops
11:30 – 13:00 second round of workshops
13:00 – 14:00 lunch
14:00 – 15:00 cleaning up
15:00 good bye