3rd Tenerife Acro Kula
November 14, 2019 @ 4:00 pm

-

November 17, 2019 @ 5:00 pm

€175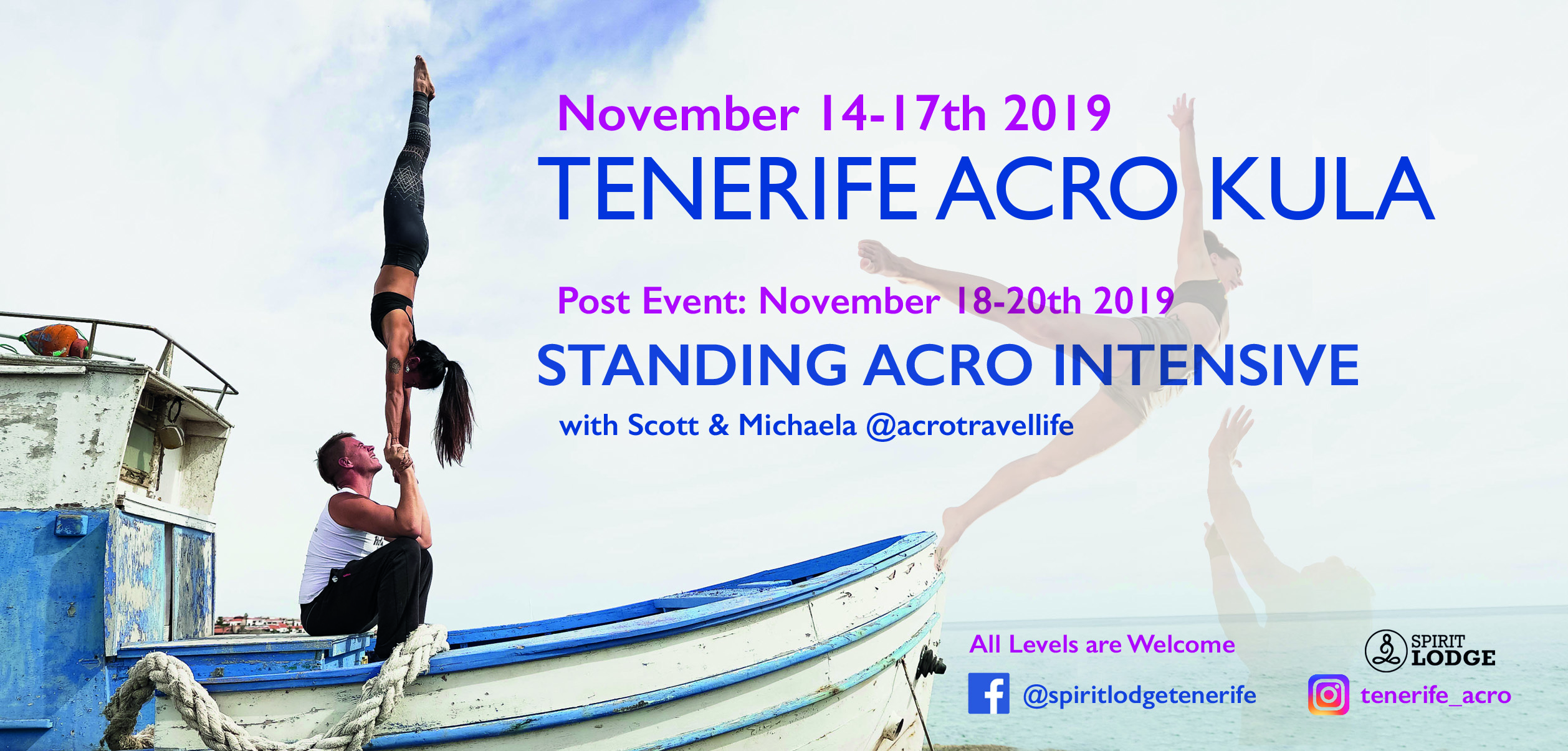 THE RETREAT INCLUDES 3 NIGHTS ACCOMMODATION STARTING FROM THURSDAY NIGHT AND ENDS ON SUNDAY EVENING AFTER THE LAST WORKSHOP
Registration is open ツ BOOK HERE:
https://forms.gle/34CUNPEYH4BdwBZz7
This three-day intensive retreat offers up to 8 hours of workshops and practice per day, allowing you to explore a comprehensive range of skills.
We will have two workshops running simultaneously at all times, one for beginner to intermediate and the other from intermediate to advanced.
The workshops will cover an exciting range of elements such as washing machines, whips, pops, flows, hand2hand and handstands.
We will also offer movement classes, yoga, massage and fun warm-ups before and after the main acro workshops.
During this Kula you will get a change to receive hands-on guidance from world-class teachers to enable you to learn and perfect your acro skills.
The Package:
◬◬◬◬◬◬◬◬◬◬◬◬◬◬◬◬◬◬◬◬◬◬◬◬◬◬◬◬◬◬◬◬◬◬◬◬◬◬◬◬◬◬◬◬◬◬◬◬◬◬
There are different accommodation options for the Kula. Participants can chose to stay in one of our luxury double rooms, in an elegant glamping tent, our dorm rooms or even in their own tent in the ample garden.
We have a price for every pocket. All prices include three daily delicious vegetarian & vegan meals prepared by Chef, the accommodation, 8 hours of daily teaching and some special surprises that will be in store.
The days are long in Tenerife and there will be time to chill-out in our hammocks, have a jam to practice your new skills, play volleyball on our beach volleyball pitch, play on the slacklines or enjoy a swim in the pool during the long lunch breaks.
Your III Tenerife Acro Kula 2019 Team
◬◬◬◬◬◬◬◬◬◬◬◬◬◬◬◬◬◬◬◬◬◬◬◬◬◬◬◬◬◬◬◬◬◬◬◬◬◬◬◬◬◬◬◬◬◬◬◬◬◬
Acro Travel Life: Scott Jumps & Michaela (Manchester)
Lucie Beyer (Germany / Munich)
Karel Salet (Netherlands)
Akrojoga: Aleš Hren & Tanja Urankar
(AcroCouple sLOVEnia)
Amanda Quiambao & Nathan Antonio Villatoro
(Barcelona /Spain)
Jannik Blm & Sara Flottmann
@feeltheflowhh (Germany / Hamburg)
Rich Hewitt
(Tenerife / England)
M & M: Malte Weber & Marina Heaven-OnEarth
(Germany / Hamburg / Tenerife)
(Host & Organizer)
Language: This retreat will be taught in English
Registration is open ツ BOOK HERE:
https://forms.gle/34CUNPEYH4BdwBZz7