3. AcroYoga Summer Camp auf Fehmarn (Northern Germany)
August 25, 2017 @ 3:00 pm

-

August 27, 2017 @ 3:00 pm

$25 - $50
Event Navigation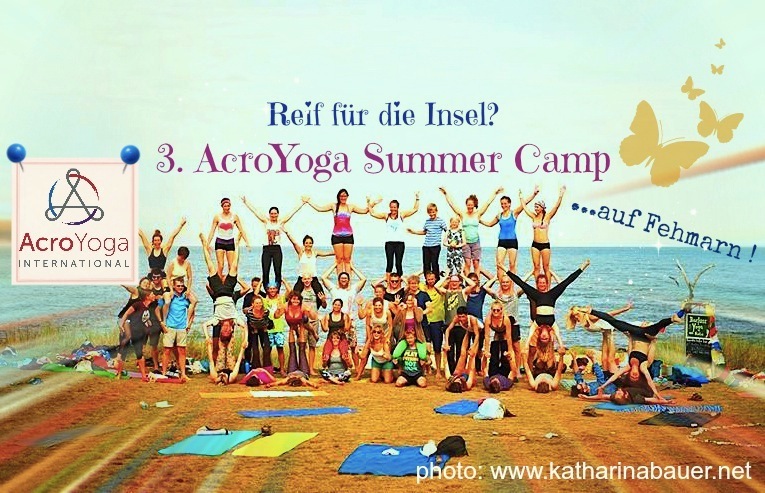 "Reif für die Insel? – 3. AcroYoga Summer Camp Fehmarn"
Namaste an alle AcroYogis und -Yoginis!
Du bist wieder einmal eingeladen zum 3. "Reif für die Insel? – AcroYoga Summer Camp" auf der schönen Ostseeinsel Fehmarn.
Das AcroYoga Summer Camp ist ein Event mit dem Ziel alle AcroYogis und -Yoginis des Nordens und natürlich auch alle anderen, die kommen möchten zum Spielen, Fliegen, Hoopen, Singen, Basen, Spotten, Slacken, Tanzen; Yoga üben, Trommeln, Meditieren etc. zusammen zu bringen.
Datum:
Anreise Fr, 25.8.2017 ab 15:oo Uhr
Abreise So, 27.8.2017 ab 13:oo Uhr (but any time really)
Unterkunft:
Wir campen auf dem Natur-Campingplatz am Niobe auf der Insel Fehmarn direkt am Strand für ca. 13 EUR pro Person pro Nacht. Selbstversorgung, also für Essen/Getränke bitte selbst sorgen. Sehr einfache Infrastruktur, Duschen und ein Kiosk, ein kleiner Laden mit frischen Brötchen und einem Kaffee gibt es vor Ort. Bring your own tent/camper van.
Programm:
Grundsätzlich ist das Programm flexibel. Das AcroYoga Summer Camp ist eine Plattform, auf welcher die Teilnehmer ihr eigenen Ideen und Kompetenzen vorstellen und selbst Workshops anbieten können. Wenn Du einen Workshop unterrichten möchtest, nimm gern vorab Kontakt mit mir auf: ilka@acroyoga.org
Bitte beachte: Das AcroYoga Summer Camp ist ein "hardcore Outdoors-Gathering" ☺ Bei schlechtem Wetter haben wir leider (zur Zeit) KEINE indoors-Ausweichmöglichkeit. Es kann sein, dass wir dann alle in die Schwimmhalle oder Eisessen gehen müssen. Bei Sonne, bitte Sonnecreme und Hut einpacken.
Freitag:
Anreise ab 15 Uhr
Opening Circle und AY Jam ca. 17 Uhr
Gemeinsames Sunset-Picknick, ggf. Kirtan (Instrumente einpacken), Lagerfeuer
Samstag:
9-10 Uhr: Vinyasa Yoga am Strand mit Ilka
ab 10 Uhr: Yoga, AcroYoga und andere Workshops (z.B. Hooping, Contact, Human Mandalas, Massage, Partner Yoga… Deinen Ideen und Kompetenzen sind keine Grenzen gesetzt, bitte nimm Vorab Kontakt mit mir auf: ilka@acroyoga.org)
abends: Sunset Jam, gemeinsames Picknick & Lagerfeuer am Strand
Sonntag:
9-10 Uhr: Vinyasa Yoga am Strand
ab 10 Uhr: AcroYoga Jam und/oder weitere Workshops
nach Lust und Laune Coffee und Cake vom Kiosk (Selbstverpflegung)
nachmittags Abreise
Kosten für den Energieaustausch:
Dieses Event verläuft komplett auf Spendenbasis. Dabei gehen 50% der Spenden an eine karitative Organisation (- welche, wird noch bekannt gegeben -). Da mit der Organisation des SummerCamps auch ein wenig Arbeit verbunden ist, halten wir eine Spende von 25 EUR für angemessen. Jedoch möchten wir, dass möglichst viele von Euch dabei sein können. Sollten 25 EUR für dich zu viel sein, kannst Du die Spende natürlich Deinem Budget entsprechend anpassen. Danke!
Komm' auf die Insel und flieg mit uns – wir freuen uns auf Dich.
Play – fly – connect – hari om tat sat!
Ilka & Georg- AcroYoga International
(Die Teilnahme am AcroYoga Summer Camp findet auf gänzlich eigene Verantwortung statt.)
———————————————————————–
"3rd Ready for the Island? – AcroYoga Summer Camp"
Namaste dear AcroYogi and -Yogini,
Again you are welcome to join our 3rd "Ready for the Island? – AcroYoga Summer Camp" on the beautiful Island of Fehmarn, in Schleswig Holstein, Northern Germany.
With this event we aim to get together all acro yogis und -yoginis of the North and of course everyone else, who would like to join us in order to play, fly, connect, base, spot, slack, drum, hoop, practice yoga, meditation, contact dance etc. together.
Dates:
Arrival: Fri, 25 Aug 2017 around 3 pm
Departure: Sun, 27 Aug 2017 from 3 pm onwards
Accommodation:
Beach camping on the Island of Fehmarn for roughly 13 EUR per night/per person.
Bring your own food and tent/campervan. Very simple infrastructure. Showers and a small shop are around the corner.
Program:
Friday:
Arrival from 3 pm
Opening Circle & AY Jam starts at roughly 5 pm
Joint picnic, kirtan (bring instruments), bonfire
Saturday:
9-10 am Vinyasa Yoga with Ilka
from 10 am throughout the day: AcroYoga and other workshops
evening: joint picnic, sunset jam, kirtan, bonfire
Sunday:
9-10 am Vinyasa Yoga on the beach
from 10 am onwards: AcroYoga Jam & Workshops
Coffee 'n' Cake (bring your own)
after 1pm departure
The program is flexible and depends on the group's needs and wants and also on the weather as this is a "hardcore outdoors gathering" ☺ At the moment, in case of bad weather we have no indoors alternative, therefore in case of rain be prepared for a day in the swimming pool, sauna, or coffee shop.
This event is run entirely by donations. 50% of all donations will go to a charitable organisation. We believe that an appropriate suggested donation is 25 EUR. However, the main purpose is to have you join us, so if 25 EUR is too much for you, please adjust your donation according to what your budget allows for. Thank you!
Please, come and visit us! We are looking forward to flying with you.
Play – fly – connect – hari om tat sat!
Ilka & Georg – AcroYoga International
(Participation in this event is entirely at your own risk.)