2018 Acroyoga Montreal teacher training – Europe Italy
April 18, 2018 @ 6:00 pm

-

May 1, 2018 @ 12:00 pm
Event Navigation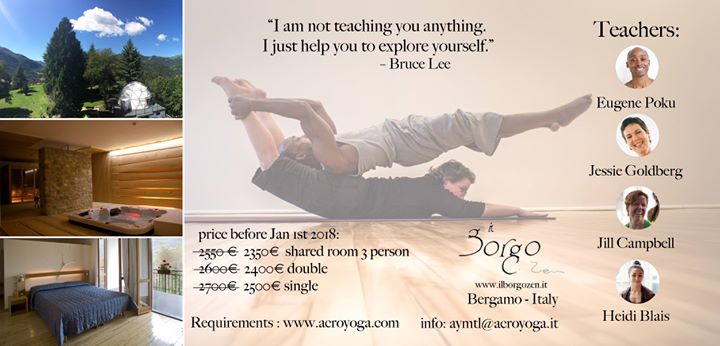 AcroYoga Montreal crew (Jill Campbell Heidi Blais Jessie Goldberg Eugene Poku) is coming back to europe!
TRADUZIONE IN ITALIANO DISPONIBILE
subscription form:
https://goo.gl/forms/lkwsA1DFincWOqLV2
AcroYoga Montreal + AcroSeeds presents:
AcroYoga Montréal – Residential European Teacher Training
April 18- May 1, 2018 (100 hrs. )
Teachers:
1st week:
Heidi Blais & Jill Campbell
2nd week:
Jessie Goldberg & Eugene Poku, Founders of acroyoga montreal style.
Assistants:
Francesco Semino & Valeria Maggiali, AKA AcroSeeds
Where: Borgo Zen, Bergamo, Italy
When: April 18 – May 1, 2018
Arrival day: April 18
Day off: April 25
Departure day: May 1 (after lunch), 2018
For the 2nd time AcroYoga Montreal teacher training is landing in Europe! Yes! Is true! The wait is over, the team is coming to Europe again! Actually in the amazing italian countryside for a residential teacher traing.
This Acro Yoga teacher training intensive will give participants the tools to teach the fundamentals of static acrobatic, partner body balancing; intro to seamless and dynamic Acro Yoga transitions and the creative process of Acro Yoga Montreal.
Price:
Before January 31st, 2018
2350€ shared room 3 persons
2400€ double
2500€ single
After January 31st, 2018
2550€ shared room 3 persons
2600€ double
2700€ single
What's included:
The price include the course fee + vegetarian meals with a buffet and accomodations, all the room are with toilets.
35 participants maximum.
The requiremnets will be the same os the other AYMTL TTC:
https://acroyoga.com/level-1/3
To register or for any question send an email with the requiremnets to aymtl@acroyoga.it and fill out the application form at the bottom of this page.
About our teacher trainings:
This is a 2 week long Acro Yoga Teacher Training Intensive, we are looking for participants that have experience in Acro Yoga so we can focus our time on sharing the art of teaching acrobatics with a yogic consciousness, moving well beyond the fundamentals.
Acro Yoga is a fun filled yet serious practice with the potential to reconnect us to our inner child. The participatory, interactive and self-affirming energy of the Acro Yoga practice unites likeminded people from different walks of life. It has many practical and therapeutic applications both in the Acro Yoga community and the world at large.
Acro Yoga's potential for dealing and helping people cope with trust issues is boundless since the root of the Acro Yoga practice is trust and acceptance. Acro yoga cannot exist without this bond and understanding between practitioners. As Acro Yoga teachers we must be present, to ensure a safe and nurturing environment for our Acro Yoga students.
The mastery of the technique in our own Acro Yoga practice is the foundation we draw on for teaching Acro Yoga. How to communicate verbally and physically to our students the inner &outer experience are the skills we will explore in this Acro Yoga Teacher Training Intensive.
subscription form:
https://goo.gl/forms/lkwsA1DFincWOqLV2
Warmly