1st Annual Washington Acro Camp
August 9

-

August 12

$250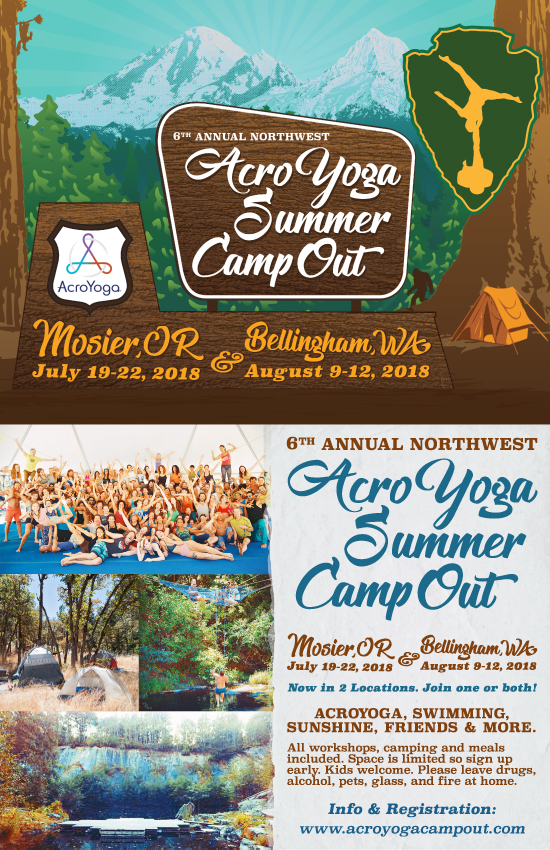 This summer the NW AcroYoga Camp-Out is happening in TWO locations!
Oregon (July 19-22)   &  Washington (August 9-12)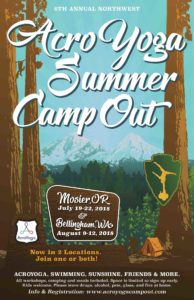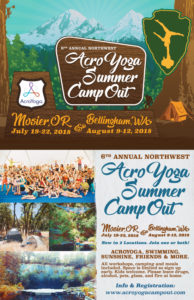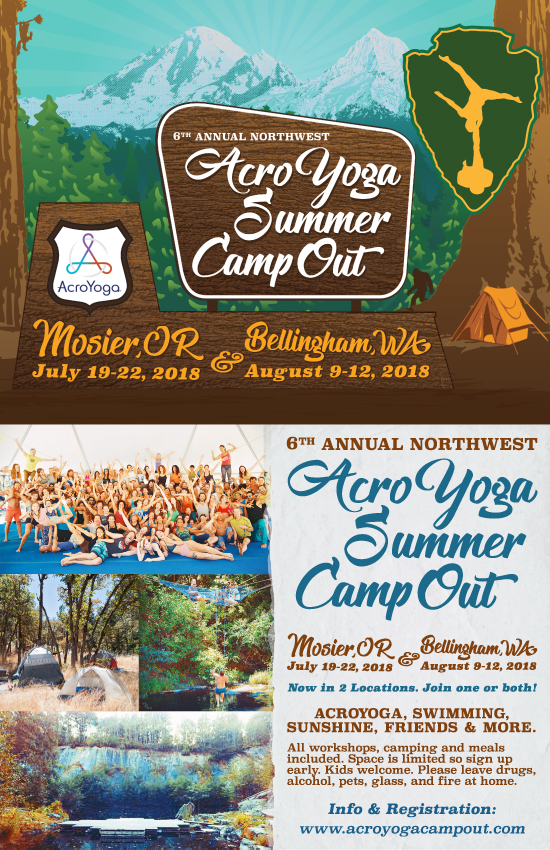 For Information & Registration go to:
The schedule of teachers and workshops will be released as it gets confirmed.
3 Days of AcroYoga, delicious meals, friends, and more.
Multiple workshops at all levels each day.
You are responsible for all camping gear. Organic vegetarian delicious meals from Thursday dinner to Sunday lunch included.
Kids and families welcome!
Smoke, Alcohol, and Drug free. Please leave pets, glass, and fire at home.
See website for more details.  www.acroyogacampout.com
Prices: Go to this link:  http://acroyogacampout.com/tickets-2/
Thursday:

Pre-Event Workshop:  3:30 to 6:30 PM   ($40 extra charge):
If you are attending a pre-event you can arrive starting at 1:00 PM on Thursday.
Option #1:  "Thai and Fly" with Kelli Mae and Sam (Therapeutic)
Set yourself up for a really great weekend with 3 hours of awesomeness. Sam and Kelli Mae will deliver just the right mix of feel-good flight, playful partner connection, and deeply rejuvenating thai massage. ALL LEVELS welcome!
Option #2:  "Slackro: The Art of Dual Balance" with Sam Salwei & Raquel Cruz-Hernandez  (Dynamic)
In this 3 hour intensive we will explore the foundations of slackro (acro inspired in slacklining) and how they differ from traditional acro. Through this process we will be able to share with you our favorite acro moves and how they can become a little extra spicy by transforming them into Slackro.
Slackro or duo balance calls on the constant balance and non-verbal communication between partners. It is a way to move with freedom and ease. The ultimate partner calibration. While having some slackline experience is helpful, you do not need slackline experience to enjoy this class.
Prerequisites:  Comfortably base or fly Free Star, Extended Foot to Hand (in L base), & Reverse Star for at least 10 to 15 seconds.
GENERAL ADMISSION:
3PM Registration opens.   Check-In, Set-Up Tents, swim, and Enjoy yourself.

3:30 to 6:30PM   Pre-Events
7PM Dinner
8PM Opening Ceremony


Friday & Saturday Schedule:
7:00 to 8:00 Morning Yoga class

8AM to 9AM:   Breakfast
9:30 to 10:00 Group Warm-up
10:00 – 12:00 Workshop AM Block (3 choices)
12:15 to 1:00PM Handstand Training OR Jam time
1:00 Lunch
4:00PM to 6:00PM Workshop PM Block
6PM to 7PM Jam (open training)
7PM Dinner
8PM……Evening fun….campfire, music, dancing, etc.

Sunday Schedule:

7:00 to 8:00 Morning yoga
8:00 to 9.00 Breakfast
9:30 to 10:00 Group Warm-Up
10 AM to 12AM Workshop Block
12:30 Closing Circle
1PM Lunch
Depart by 6PM