𝐀𝐂𝐑𝐎𝐁𝐇𝐀𝐊𝐓𝐈 𝐓𝐄𝐀𝐂𝐇𝐄𝐑 𝐓𝐑𝐀𝐈𝐍𝐈𝐍𝐆
August 30 @ 8:00 am

-

September 12 @ 5:00 pm
Event Navigation
𝐀𝐂𝐑𝐎𝐁𝐇𝐀𝐊𝐓𝐈 𝐓𝐄𝐀𝐂𝐇𝐄𝐑 𝐓𝐑𝐀𝐈𝐍𝐈𝐍𝐆
𝘌𝘮𝘱𝘰𝘸𝘦𝘳 𝘵𝘩𝘳𝘰𝘶𝘨𝘩 𝘈𝘤𝘳𝘰𝘠𝘰𝘨𝘢
• Challenge with mindful acrobatics.
• Connect with yogic presence.
• Communicate with healing touch.
Empower yourself and others !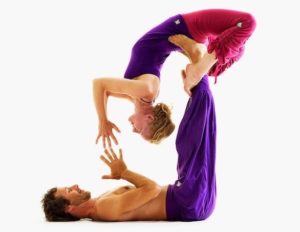 𝗙𝗢𝗖𝗨𝗦 𝗢𝗙 𝗧𝗛𝗘 𝗔𝗖𝗥𝗢𝗕𝗛𝗔𝗞𝗧𝗜 𝗧𝗧
✰ Yogic philosophy applied to pedagogy.
✰ Physics principles applied to acrobatics.
✰ Develop your own style and define personal vision.
✰ Humility, integrity and authenticity in the teaching role.
✰ Channel energy to Metta.
✰ Teach in a creative way based on universal principles.
✰ Time to practice and time to teach.
✰ Teaching situations, problems and solutions, business, formats, etc.
✰ Drug free / alcohol free.
𝗖𝗛𝗔𝗥𝗔𝗖𝗧𝗘𝗥𝗜𝗦𝗧𝗜𝗖𝗦 𝗢𝗙 𝗧𝗛𝗜𝗦 𝗧𝗥𝗔𝗜𝗡𝗜𝗡𝗚
The AcroBhakti style is characterized by inclusivity, authenticity and metta. It is very clear to the ones who came to our classes, retreats and intensive workshops. This training is based on those values. The focus is on how to share AcroYoga practice in a safe, authentic and personal way, teaching alone or with others.
𝗗𝗔𝗧𝗘𝗦
Mundekulla, Sweden • 30 August – 12 September 2020
Retreat setting, food & housing included
Two intensive weeks / 100+ hs
𝗗𝗔𝗜𝗟𝗬 𝗦𝗖𝗛𝗘𝗗𝗨𝗟𝗘
✰ Morning yoga (warm up, prepare the body, handstands)
✰ Embodiment (solar, lunar, handstands, thai)
✰ Teaching (philosophy, planning, demo, layering)
✰ Reflections / Q&A
𝘈𝘳𝘳𝘪𝘷𝘢𝘭 𝘥𝘢𝘺:
15.00-18.00 𝘈𝘳𝘳𝘪𝘷𝘢𝘭
18.15-19.00 𝘋𝘪𝘯𝘯𝘦𝘳
19.30-21.00 𝘖𝘱𝘦𝘯𝘪𝘯𝘨
𝘕𝘰𝘳𝘮𝘢𝘭 𝘥𝘢𝘺:
07:00-08:30 𝘔𝘰𝘳𝘯𝘪𝘯𝘨 𝘺𝘰𝘨𝘢 / 𝘏𝘢𝘯𝘥𝘴𝘵𝘢𝘯𝘥
08.30-09.15 𝘉𝘳𝘦𝘢𝘬𝘧𝘢𝘴𝘵
10.00-13.00 𝘌𝘮𝘣𝘰𝘥𝘪𝘮𝘦𝘯𝘵
13.15-14.00 𝘓𝘶𝘯𝘤𝘩
14:00-15.00 𝘉𝘳𝘦𝘢𝘬
15.00-18.00 𝘛𝘦𝘢𝘤𝘩𝘪𝘯𝘨
18.15-19.00 𝘋𝘪𝘯𝘯𝘦𝘳
19.30-21.30 𝘙𝘦𝘧𝘭𝘦𝘤𝘵𝘪𝘰𝘯 / 𝘘&𝘈
𝘋𝘦𝘱𝘢𝘳𝘵𝘶𝘳𝘦 𝘥𝘢𝘺:
07:00-08:30 𝘔𝘰𝘳𝘯𝘪𝘯𝘨 𝘺𝘰𝘨𝘢
08.30-09.15 𝘉𝘳𝘦𝘢𝘬𝘧𝘢𝘴𝘵
10.00-13.00 𝘌𝘮𝘣𝘰𝘥𝘪𝘮𝘦𝘯𝘵
13.15-14.00 𝘓𝘶𝘯𝘤𝘩
14:30-16.00 𝘊𝘭𝘰𝘴𝘪𝘯𝘨
𝗣𝗥𝗜𝗖𝗘𝗦
The price includes the AcroBhakti Manual and 3 vegetarian meals per day and fruits after the dinner. The food is organic vegetarian locally produced. There are vegan options depending on the group.
We offer Early Bird price 10% discount if you complete the payment before 1st of April 2020.
Prices and housing options:
Early Bird 10% / Regular Price
A) Space in alcove dormitory with shared shower and bathroom.
20700 SEK / 23000 SEK
B) Space in 4-room with private shower and bathroom.
21600 SEK / 24000 SEK
C) Space in double room with private shower and bathroom.
23400 SEK / 26000 SEK
D) Space in single room with private shower and bathroom.
25200 SEK / 28000 SEK
~ ~ ~
All prices are with 6% VAT included.
Calculate 1000 SEK ≈ € 100
Scholarship / Volunteer:
We offer between 2 and 4 spaces in discounted price depending on the size of the group. The exchange is for work during the training around 40 minutes per day. The discount is 2500 SEK. If you have economical problems don't hesitate to contact us.
Vacancy:
Vacancy is depending on the demand and follows the chronological order of the registrations after confirmation of payment.
𝗔𝗣𝗣𝗟𝗜𝗖𝗔𝗧𝗜𝗢𝗡 𝗣𝗥𝗢𝗖𝗘𝗦𝗦
1. Read all the info thoroughly.
2. In case of questions read the FAQs or write to training@acrobhakti.com.
3. Fill out the application form (not bound to payment).
4. You will receive our answer in less than 3 days.
5. Proceed with the payment within 1 week from acceptance to the training.
𝗔𝗣𝗣𝗟𝗜𝗖𝗔𝗧𝗜𝗢𝗡
https://forms.gle/7Ph6bGcwL9hGM8rh8
𝗠𝗢𝗥𝗘 𝗜𝗡𝗙𝗢
𝗤𝗨𝗘𝗦𝗧𝗜𝗢𝗡𝗦
training@acrobhakti.com